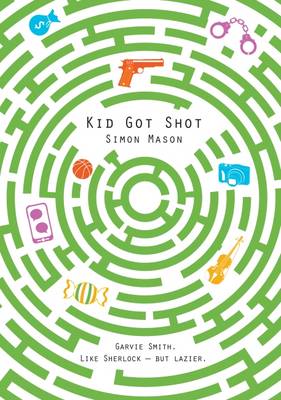 Published by David Fickling Books
Garvie Smith, Like Sherlock – but lazier
This is the second volume in the Garvie Smith series. I wrote about Running Girl a while ago, having rather fallen in love with Garvie. A young man whose abilities that far out weigh his inclinations to work towards his up and coming  exams.
In this new book  his mother is nearing melt-down.
The school that Garvie 'attends' is now in the throws of examination time – everyone is revising, and spending their last few hours and minutes before each exam, studying, writing notes, and reading over stuff, just one more time.
Garvie, of course, is not…His uncle keeps taking Garvie aside to talk to him, explaining what needs to be done. At least to keep his mother happy.
His mother is desperate, and keeps pulling him aside to stare at her son, her voice becoming more and more stringent as Garvie stands before her in the kitchen, explaining yet again what happened.
Garvie would like to keep his mother happy. The problem though is that a pupil from his school has been murdered. The most unlikely boy to die, you might have thought. A violinist – who never allowed his violin out of his hands. So what happened to it?
Another gloriously funny crime novel – set around some of my favourite characters… Inspector Singh is still struggling to keep his sanity (and his job) with Garvie's exuberance and 'help', and he finds himself doing things he'd never usually think of doing…
This one has been published in hardback – but is well worth the slightly increased expenditure.