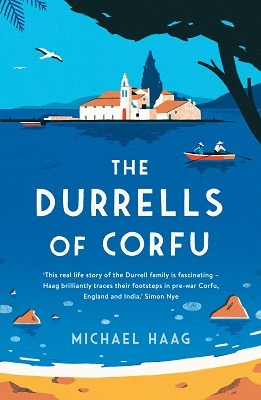 Published by Profile Books.
This is a small biography, but for all that adds details that might not be known about the family, particularly for readers who have only read Gerald Durrell's writing and are either not aware of Lawrence Durrell's books, or have not read them. It gives a wonderful back ground to My Family and other Animals, with details of many of the characters that are so intrinsic to the success of that book.
It is a biography of the family and as such it is perhaps, too small – the details of Lawrence Samuel Durrell, the father who was an engineer in India are tantalising and I suspect only flutter across his story. There are several biographies of Lawrence Durrell available, but very little can be found about Leslie, Margo or Louisa Durrell.
There has been some talk of the book not giving enough details of the problems that the family had – for example Louisa's depression after her husband's death and alcohol problems. I don't think, however, that biographies should always relate the stories of people, warts and all – there is enough here to give an indication that their life was not all sun, sea and scorpions and why.
They were all born in India, but were intrinsically English – the English abroad. The book is liberally seasoned with photographs and some of the story is perhaps a little graphic for some of my younger readers – and so I have noted it as Adult. It will not take you long to read, but it does quote my favourite episode from My Family & Other Animals, and is perhaps a book that should be kept along side that, to give a little background to this extraordinary family.