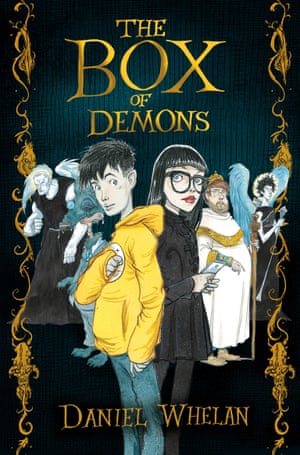 Published by Pan Macmillan.
They say you shouldn't judge a book by its cover. Which is probably true – though it is without doubt the first thing that attracts a reader, if they haven't met the author before. In this case it was Chris Riddell's illustration that caught my eye. Twice. Then I succumbed and I am very pleased I did – a superb story of a young boy who has, as far as he can remember always been the 'owner' / 'caretaker' of 'the box' which contain three demons – up to mischief at any opportunity. One, somewhat smelly, another frankly cantankerous and the third – well he's just greedy for the smell of chips…
When he was younger the demons were at least funny, however, now things are getting a little more serious…he has always been deemed as a little 'odd', but now it is becoming something more. When Ben comes across an angel, who tells him he can be rid of the box, it seems like a dream come true. Perhaps there will be silence…the music the box makes is a continuous noise in Ben's head, and for that alone, he would do almost anything….just for some peace and quiet.
I am just a little over half way through this and I can confirm it is brilliant.
Go out and buy it.
It is with some regret that I notice that there was once a Special Edition of this – I never saw it. I wish I had seen it – I'd have had a copy… A greater regret, is that this was first published in 2015 and as a paperback – last year. One that I missed, but not one you should.