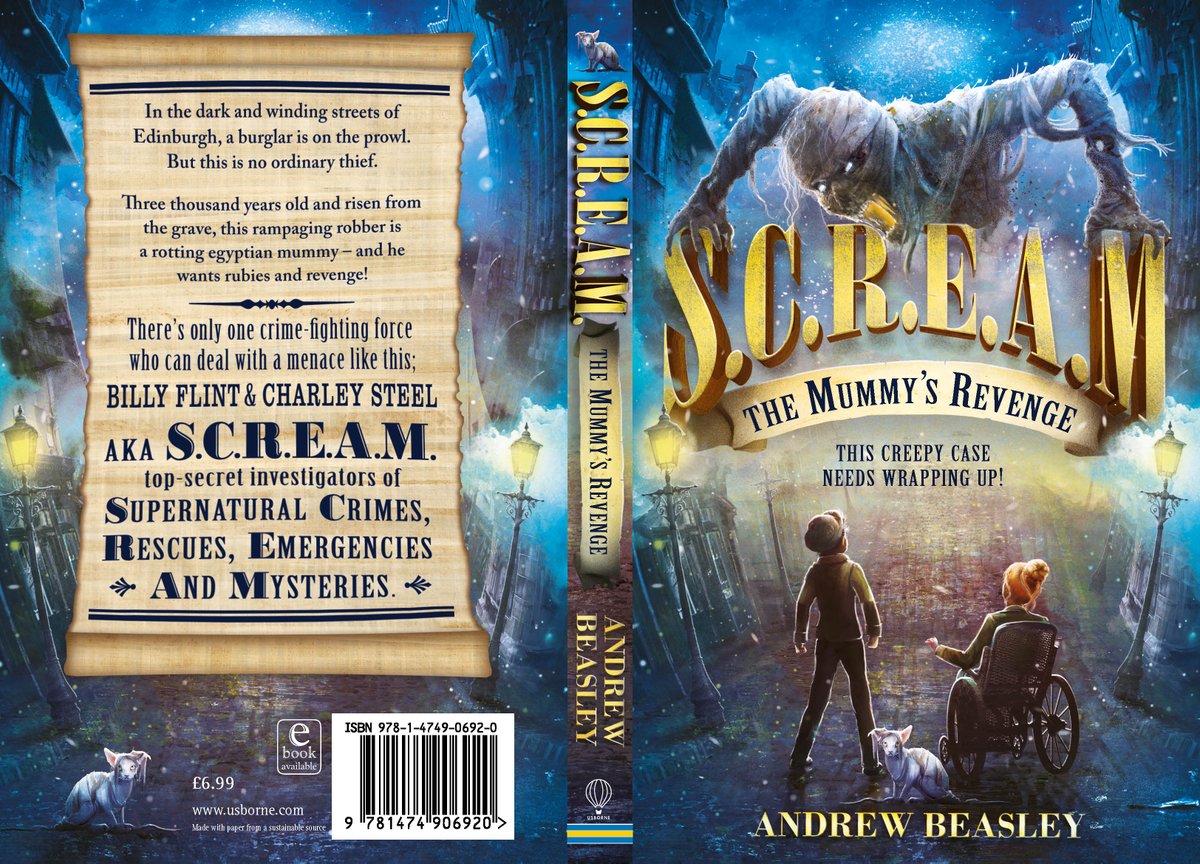 Published by Usborne
I am regularly asked to find scary books for young gentlemen who visit the store. This can be a difficult request to fulfil. Many of the young adult books are certainly not suitable for 9 – 12 years, whether because of language, plot or because they are fundamentally not just not appropriate.
This has a wonderfully creepy and scary cover with a young Victorian girl and boy, a mummified cat (part unwrapped) and of course a depiction of a mummy leaning over the title towards them.
The book is set in that 'wonderful' period when the Victorians were returning home from their travels with Egyptian artefacts, which they then either kept in their private museums. The Egyptian mummies suffered further indignities, not to say sacrilege. It became the fashion to hold events where the bodies were unwrapped in front of guests who came to see the performance.   The idea that an Egyptian from Ancient Egypt might object to this – seems to have been ignored. I have often thought that they would have preferred to have been left in the sands…but there you go.
Andrew Beasley has taken this idea and developed the story from that – and it's a very good, beautifully scary volume – with a little more edge than is usual.
There were one or two wonderful vignettes one relates to a ruffian named Tosher, who's method of keeping body and soul together is by masquerading as a lady selling beauty products. When our hero starts to ask him some questions, there is this rather wonderful passage:
Tosher shrugged his broad shoulders and reached down into the front of his dress. He pulled out an apple, leaving his chest oddly lopsided. He took a bite. "Want one?" he asked. "I've got a spare."
The heroine, a youngster who has had polio and moves around mainly with a wheel chair is feisty and a brilliant. She has been educated as a young lady. His education has
come from the back streets.
I am pleased to note an advertisement for S.C.R.E.A.M. The Carnival of Monsters in the back of the book, which is also due to be published, if it hasn't already – I am certain a brilliant companion volume to this.
Adam Beasley also wrote the Ben Kingdom Trilogy, (The Battles of Ben Kingdom: The Claws of Evil, The Feast of Ravens and The City of Fear) also set in Victorian times – which I thought were brilliant. He is obviously an author to watch and to follow.