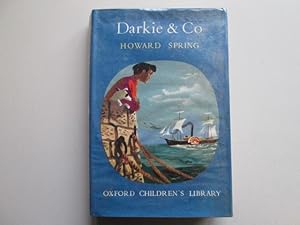 Now out of Print, originally published early 1930's
I found this on a stall at the National Book Fair near Russell Square Hotel, last Sunday and have spent the intervening week reading it with immense pleasure, between my time at work and doing those things that are essential for sanity and comfort.
It was priced at £4 – but I paid just £2 – as everything on the stall was marked half price.
It has been a joy, not least because of the use of language, which was a pleasure – 'No imperance,' the sergeant replied, drawing himself up with dignity. 'No imperance to the Law, my lad. Which I took to mean no impertinence…
The paper is thick, off white and it is regularly illustrated with wonderful pictures, black and white and full of character. The font is about 12 point and the book has good margins and a nice sized gutter too and, what is more, it has a dust jacket…
It was published by Oxford Children's Library – I think in 1930/31 which reflects the use of language, particularly in the title which could, in these more recent years be held to be politically questionable. Darkie though is bright and intelligent and his name is given as a term of affection… The story is a proper adventure – our young hero has run away, and becomes involved with a puppet master and gypsies – out to get what they can in the way of a ransom.
Lastly this small volume has that wonderful smell that comes with old books – slightly musty…a comforting sort of smell.
It is a delight.
This post, is by way of a reminder, that one can find good reading (and books that are designed properly and beautifully) for very reasonable prices for very little – if you are willing to try something a little different, that might have a history…