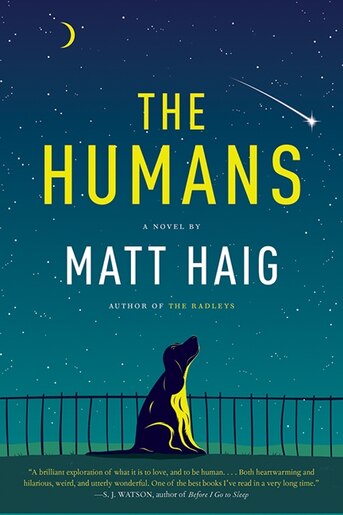 Published by Canongate Books
My friend Martina, who sadly no longer works with us, suggested I read this one. Perhaps the third Matt Haig volume I have read. Sadly the copy I bought is now wrinkled and slightly bowed, having fallen in the bath.  I don't often take books into the bath, for just this reason. If I do, I usually have at least two copies – one for bath-reading, the second for keeping in mint condition to be read with care.
This is a book about humanity. Our quest for happiness and how, fundamentally we get it all wrong. The stuff we keep in our wallets, purses, back pockets, behind the settee, in jars, tins and the like just doesn't do it. Relationships often do, but we keep looking too far ahead – we don't realise that the past has gone, the future never arrives. It is now that is important.
Essentially this is about an alien visiting the earth. Not, though, as a tourist.  He is found wandering around the streets of Cambridge, naked, in the guise of Professor Andrew Martin. The real Professor Martin solved one of the great conundrums of mathematics, which would in time have far reaching consequences…not necessarily a good thing…at least in some eyes. This Professor Andrew Martin is here for one purpose only – to destroy all record of this achievement. Including all reference to it, whether on paper, computers or by word of mouth. He is here to murder the professor's wife, his son, and anyone else who might have gained knowledge of the professor's discovery.
Thought provoking. Touching and rather wonderful.