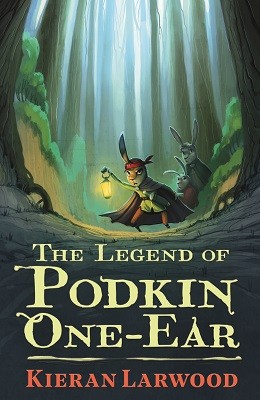 Published by Faber & Faber
This is a superb book – I started this yesterday afternoon, in my tea-break. Then continued reading on the way home on the train and then just before sleep. This morning I read it between having my shower and getting dressed, then on the train again, this time on the way to work. Sadly I had no time at lunch, but finished it this evening as I came home again.
The legend of Podkin One-Ear is related by a story-teller, one who tramps the lands to tell tales at times of celebration. The legend he relates is full of good old fashioned adventure, with a young rabbit, the son of a chieftain and his older sister and younger brother up against an evil taking over their world. At the start of the tale, he does have both his ears…
I can only say I loved it – was captivated by the story, which was enhanced by the illustrations by David Wyatt – just enough to give extra flavour to the legend.
This will be a classic, without any doubt. I usually pass on my proofs to local youngsters. I'm afraid this time, I'm keeping this one. Simply one of the best books I have read for a very long time, which is particularly pleasing for this age group. For them, there isn't enough good writing, so I'm always pleased when I come across something this good for our younger readers…though anyone sensible, who is older than that will enjoy it too…