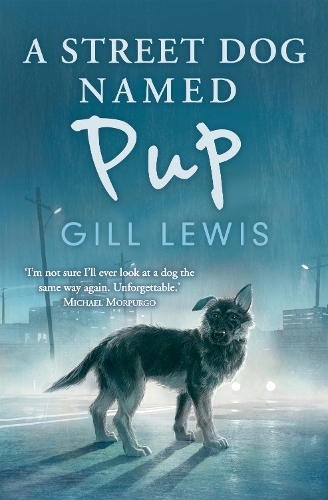 Published by David Fickling Books.
…Rex sighs. 'And dogs are so much better at that than man'…
There is something about the connection between dogs and wolves. At times it seems incongruous that the small Miniature Pinscher nestled in a customer's arms could be related to the European Wolf (Canis lupus lupus). Then there's that glint in the eye that says there is something more to this charming, not to say cute being.
Gill Lewis, an author for whom I have a great deal of respect has written this moving, touching tale about the connection between humans and dogs and more. There are times when I am ashamed of being of the human race – particularly when it comes to the cruelty we show not just to 'our' animals, but also to our young too.
It could be said that this is 'just' a story about a puppy, his life and what happens to him as he lives it. It is, however, so much more – a tale of bravery, friendship and love. Not just between man and dog, but between dogs themselves too. It is the story of dogs of character – an understatement there – not just Pup, but Frenchi, Saffy, Merle, Rex, and Lady Fifi to name just a few. It will make that all important connection. Whether you are a 'dog' person or cat – this is a book that will make an impression.
Miles, was a mild, kindly gentleman who was once stolen from my sister – he landed up with a human gang – where dog fighting was the 'sport' of choice. He was reported to the police, after neighbours stole him away – as they said that Miles just sat down and looked bemused at the aggression shown by the dogs that were set to fight him. He didn't understand what was going on. Why they were so keen to fight. He was, as I said a mild, kindly gentleman of a Rottweiler – appearances can be so deceptive. His was a story that could so easily have been part of A Street Dog Named Pup, and could so easily have had a different ending. To say he was welcomed home with joy, is a very great understatement. I am pleased to say he lived the rest of his life in luxury and his 'adventure', apart from some scars on his feet changed nothing in his character. A gentleman to the end.
My sister has just acquired a new puppy, now a little older – perhaps more a young Doberman – who she is bringing down to London at the end of this week. I hope to make friends, to make that understanding. One thing I do know – Mia won't have the life described so vividly in A Street Dog Named Pup – she has a home for life…
Please visit Gill Lewis' Internet site: http://www.gilllewis.com/web/
This book was written to make us more aware:
We shouldn't be changing the shape of the kibble.
We should be changing the shape of the dog.
We should be changing the conversation.
Stories allow us to have empathy for another being.
So let us imagine what it is to walk a mile in dogs' paws.
Let's start a conversation – and begin that first step.